A Woman Is No Man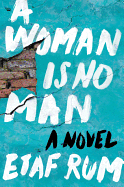 In this heartrending debut novel that will likely be a book club favorite, Palestinian American writer Etaf Rum explores the cloistered yet perilous lives of the women in a Palestinian immigrant family in Brooklyn, N.Y.
In 1990, 17-year-old Isra leaves Palestine for Brooklyn with Adam, the husband her parents chose for her. After spending most of her life in her family's kitchen, the sight of New York astonishes Isra. Adam and his overbearing mother, Fareeda, expect her to exemplify the dutiful Arab wife, keeping to the house to cook, clean and raise sons. Meek Isra silently chafes against their expectations while her teenage sister-in-law, Sarah, rebels against Fareeda's attempts to marry her off. Isra bears only daughters, further ratcheting up the household tension.
Eighteen years later, Isra and Adam are dead. Their eldest daughter, Deya, longs to go to college, but Fareeda insists she marry. In the older woman's mind, Deya must keep to the culture and accept that men, not women, have choices. Deya longs to please her family, until she reads an unfinished letter from Isra that makes her question everything she believed about her mother.
In an open letter to readers, Rum has said that while writing this story, she fought her own apprehension about breaking the code of silence that surrounds the Palestinian immigrant community, as well as her fear of adding to stereotypes against it. Luckily for readers, she chose authenticity over caution. Crafted with thoughtfulness and empathy, A Woman Is No Man celebrates resilience and the courage required to speak out against an unjust way of life. --Jaclyn Fulwood, blogger at Infinite Reads