An American Summer: Love and Death in Chicago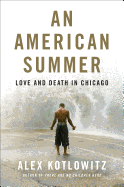 Chicago has had a reputation for violence and crime since the rise of the mob in the early 20th century. But stories of gangs and menaces to society are rarely illuminating, drawing the people of Chicago in caricature instead of revealing their humanity.
Thankfully, there are writers like Alex Kotlowitz (There Are No Children Here), who take up the mantle of telling real stories of the city. An American Summer is a collection of vignettes all taking place during the summer of 2013. Its chapters drop in on people living and working in Chicago, including high school students, former gang leaders and U.S. congressmen. As Kotlowitz puts it, the book is a collection of "dispatches, sketches of those left standing, of those emerging from the rubble, of those trying to make sense of what they've left behind." Nearly every one of his subjects is either the victim or perpetrator of violence. Even some of the book's most high-profile figures, such as Congressman Bobby Rush, have been personally affected by the city's violence. (Rush's son was shot and killed in 1999.)
Kotlowitz has an uncanny rapport with all his subjects, sitting down with them for months or years, learning about their struggles from friends and family and creating a compelling, incredibly readable depiction of their lives. There is pain, death and deep sadness throughout these pages, but also love, forgiveness and new beginnings. Kotlowitz presents life as it is for those living in Chicago: the chaos, tragedy and connections that give life meaning and hope. --Noah Cruickshank, director of communications, Forefront, Chicago, Ill.