Daisy Jones & The Six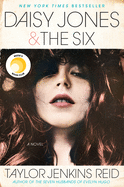 Taylor Jenkins Reid's Daisy Jones & The Six opens by noting this is the only official account of the titular band's history and dramatic breakup mid-tour in 1979, an event that has remained a mystery for 40 years. What follows is so realistic and rich in details, readers might forget the band is fictional.
At the start of her career in the early 1970s, Daisy, a wild child and naturally gifted singer, wants to record her own songs, not the pop ditties her reps push on her. Another artist on her label, Billy Dunne, frontman of a rock band called The Six, has written a song his producer says should be a duet with a female vocalist. Like Daisy Jones. She and Billy begrudgingly agree to work together, resulting in combustible chemistry and a hit that begs for more collaboration between the two. When Daisy is invited to join the band, she's a grenade thrown into the mix, and sparks fly, both good and bad.
Reid tells the story through excerpts from interviews with band members and the people caught up in their vortex--she's trimmed all the fat and included only the juiciest morsels. Daisy Jones & The Six is more than sex, drugs and rock 'n' roll, though there's plenty of that. It cracks open the creative process and shows how much it costs sometimes to make art that resonates. The songs are described with such ache and raw emotion that readers will wish the band's music were real. Each character springs to life; they're inspiring and tough and messy and heartbreaking. Rock stars--they're just like us. --Elyse Dinh-McCrillis, blogger at Pop Culture Nerd