Instructions for a Funeral: Stories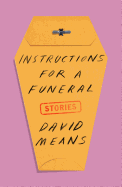 It's impossible to isolate a single dominant theme in Instructions for a Funeral, the fifth story collection by David Means (Assorted Fire Events). The title selection, however, is as good as any for revealing the distinctive pleasures of his short fiction. In it, the narrator, William Kenner, a real estate developer, in the guise of a meticulously detailed and wickedly funny letter to his lawyer, reveals how his friend Philpot and Sullivan, a New York mobster, swindled him in a real estate deal. Featuring the harrowing description of a mass shooting, two dramatic scenes of rescue and a chilling encounter between Kenner and Sullivan, and the final sentence, "Everything, right now, is safe and cozy," it's a masterly literary juggling act.
Not all of Means's stories are so dramatic. "The Chair" is a stream-of-consciousness account of a stay-at-home father's musings as his son cavorts on a stone wall above the Hudson River, a setting for several other stories. Anyone who's ever wrestled with the balance between love and discipline will appreciate the narrator's ambivalence as he futilely warns a five-year-old boy of the consequences of his daredevil antics. Transgression of a different type is the subject of "The Mighty Shannon," where the protagonist of "The Chair" and his wife, Sharon, a Manhattan lawyer, find themselves in a couples therapist's office confronting the aftermath of their mutual affairs.
Instructions for a Funeral is like the proverbial box of chocolates. Not every story will suit every reader's taste, but there are ample treats here guaranteed to surprise and delight anyone. --Harvey Freedenberg, freelance reviewer