When Brooklyn Was Queer: A History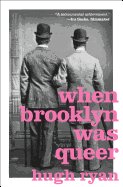 The idea of Brooklyn, N.Y., having a significant queer history surprises many present residents. But Hugh Ryan, founder of the Pop-Up Museum of Queer History, cracks open what looks like a blank slate and finds richness there, beginning with the 1855 publication of Walt Whitman's Leaves of Grass. Whitman represents an early association with Brooklyn and with white men who have sex with men (people of color and queer women did not appear in the historical record yet). From here, Ryan covers periods of growing visibility through turn-of-the-century newspapers and the theater; the rise in criminalization and persecution of queers in the 1910s; and the quick expansion of both the queer scene and Brooklyn at large in the 1920s.
The Depression, the end of Prohibition and the Hays movie code brought new strictures on a vibrant world of bars and cruising venues. Mobilization for World War II offered great opportunities for queer people, as men joined the armed forces and women went to work in factories and shipyards like the Brooklyn Navy Yard. Following the war, a societal move toward conservatism, the suburbanization of New York City and the shutdown of Brooklyn's waterfront lead to what Ryan calls "the great erasure" of queer community and history.
Painstaking research and attention to detail highlight the richness and mystery of stories that have been largely hidden until now. Moreover, When Brooklyn Was Queer achieves everything one could want in a history, with its easy-reading narrative, fascinating small events within significant larger ones and personal interest. --Julia Kastner, librarian and blogger at pagesofjulia