A Friend Is a Gift You Give Yourself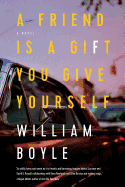 Rena Ruggiero was a good Brooklyn mob wife. A regular churchgoer, she stayed out of Gentle Vic's business and has lived a quiet life since he was gunned down. Then Enzio, with "earlobes that dangle like melted coins," makes a pass at her. After fighting back, she steals his impeccable Impala and flees. Rena runs to the Bronx, to the home of her estranged daughter, Adrienne, and 15-year-old granddaughter, Lucia. Rejected, Rena is invited in by fireball neighbor Lacey Wolfstein, a former x-rated actress who moved in across the street after a stint hustling cash from rich men in Florida.
Things go spectacularly sideways when one of Wolfie's old marks shows up, as does Richie Schiavano, Vic's former right-hand man, who has knocked off a mob sit-down and stolen a briefcase full of cash to fund a future with Adrienne and Lucia. The confrontation at Wolfie's gets deadly when a sledgehammer-wielding gangster comes after Richie. Believing in the titular Robert Louis Stevenson quote, "A friend is a gift you give yourself," Wolfie takes Rena and Lucia under her street-smart wing and on the run.
William Boyle's work (Gravesend, The Lonely Witness) is some of the finest in crime fiction and while he ticks every box each time out, the emphasis changes. Character and nonstop action are gloriously on the rampage here, as three very different women join forces to survive high-speed car chases, crashes, shootings, violent men and general bedlam. Boyle's dialogue snaps and his sense of place is top-notch. This roller-coaster madcap tragicomedy is a great gift to give yourself. --Lauren O'Brien of Malcolm Avenue Review