Era of Ignition: Coming of Age in a Time of Rage and Revolution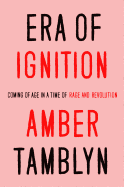 Actor, director and poet Amber Tamblyn's (Any Man, Dark Sparkler) first nonfiction book is part memoir, part feminist credo.
Around her 30th birthday, Tamblyn found herself in a crisis of identity, followed by a personal and professional rebirth. Pointing out that the U.S., too, has been going through a time of upheaval as it confronts a history of inequality and questions about its future, Tamblyn dubs these concurrent changes an Era of Ignition. Her book seamlessly moves between scenes from her own life to cultural criticism, and she brings a personal narrative to national issues like the #MeToo movement, Time's Up (of which she is a founding member), the 2016 election, women's healthcare, workplace discrimination and the daily injustices of the female experience. "We are made to see ourselves and our lived experiences as almost cartoonish stereotypes of our truths, which is a way of othering us from our own existence," she writes.
Era of Ignition is gripping, astute and even funny; it's hard to put down but deserves a slow and thoughtful reading. Tamblyn is self-aware, particularly when it comes to her own advantages--as a white woman and as a public figure. She recognizes those, especially black and brown women, who don't have the same opportunities she does, and at times brings their voices to the fore: one chapter includes an essay by poet Airea D. Matthews about black feminism and solidarity, another section includes an interview with Filipino American trans writer Meredith Talusan. Here's hoping Tamblyn's name and access get these messages into the hands of more readers. --Katy Hershberger, freelance writer and bookseller