Famous Men Who Never Lived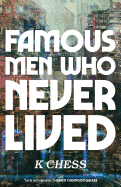 In this accomplished first novel, K Chess imagines an unusual and disquieting refugee experience with a sci-fi twist.
When the Hundred Fifty-Six Thousand crossed through the Gate between timelines, they escaped nuclear war but lost an entire world. Now living in New York City in our timeline, Universally Displaced Persons (UDPs) like Hel and her lover Vikram find themselves "shipwrecked in a world populated by seven billion strangers," where they face suspicion and discrimination. While former professor Vikram tries to move forward, attending government-mandated indoctrination meetings and working as a night watchman, former doctor Hel becomes obsessed with The Pyronauts, a famous science fiction novel from their world. Convinced the early death of its author in the new timeline marks its first point of divergence from hers, Hel campaigns for the founding of a museum to preserve the book and UDP culture. When the only existing copy of The Pyronauts goes missing, her quest to find it dovetails with her struggle to shake the past loose even as Vikram begins to reach for it again.
Though Chess primarily tells the present-day story from Hel and Vikram's alternating points of view, her multiverse gains further depth from transcripts of interviews with UDPs about events around the migration and life in the new New York City. Light, accessible science fiction elements enable the plot rather than take center stage. An allegory for refugeeism, othering and coping with staggering loss, Famous Men Who Never Lived will leave readers haunted by the UDPs' broken past but hopeful for their future. --Jaclyn Fulwood, blogger at Infinite Reads