Our Man Down in Havana: The Story Behind Graham Greene's Cold War Spy Novel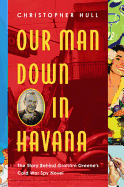 A successful literary biography compels the reader to revisit the subject's work. Christopher Hull's Our Man Down in Havana ably succeeds in sparking this compulsion. But his book is more than a biography that emphasizes the English author Graham Greene's satire of British spying in the Caribbean. It also explores the political and cultural developments in Cuba during the 1950s and '60s and analyzes the often pathetic and unintentionally hilarious intelligence work of Great Britain in the same period.
It is not news that Greene worked as a spy for the British government while maintaining cover as an author. What may be news is how politically astute and prescient he was. Greene published Our Man in Havana in 1958, at the same time Castro was ousting Fulgencio Batista in Cuba and setting up a Communist government.
A researcher focused on British interactions with Latin America, Hull presents evidence for multiple trips by Greene to the region, including a few Greene avoided mentioning in his memoirs. He uncovers rivalries with other intelligence operatives in the region: "maybe it was a case of two part-time spooks, suspicious of each other's activities in Cuba and wary of having their cover blown." He also details how the author forecasted many events in his novel, such as the unmasking of the British double-agent-cum-defector Kim Philby (a friend of Greene) and the Cuban Missile Crisis.
One moment might give readers pause: Hull uncritically cites Michael Sheldon's highly contested biography Graham Greene: The Man Within. However, this does not ultimately detract, and Our Man Down in Havana intrigues and satisfies in every other way imaginable. --Evan M. Anderson, collection development librarian, Kirkendall Public Library, Ankeny, Iowa