When Spring Comes to the DMZ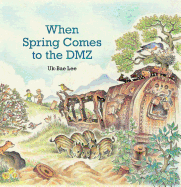 When the Korean peninsula was divided into North and South in 1953, the consequences were especially tragic for separated families. In the six-plus decades since the ceasefire, reunion--politically and personally--has proven virtually impossible. On either side of the Military Demarcation Line, both North and South Korea built fences approximately 1.25 miles from the actual line, stretching 154 miles across the peninsula. Ironically, this Demilitarized Zone (DMZ) has flourished as an untouched haven for flora and fauna.
People, too, arrive at the DMZ, albeit under highly different circumstances. "When spring comes to the DMZ," while nature rejuvenates, "soldiers check the fence/ and fix the broken places." With the milder weather, "Grandfather climbs up/ to the DMZ observatory/ and looks at the northern sky." As seasons change, soldiers "undergo exhausting training" in summer, practice tank and plane maneuvers in autumn and "think of their homes" in winter. Without fail, "Grandfather climbs up to the DMZ lookout again," to gaze longingly at the "northern land." As another year passes and spring returns, Grandfather's only wish is to bypass the lookout, "fling the tightly locked gates wide open"... and share the same freedom as the nearby animals.
Award-winning author/artist Uk-Bae Lee has never known a united country. He channels a hope for reunion into When Spring Comes to the DMZ, originally published in his native South Korea in 2010 as part of the Peace Picture Book Project. His text, smoothly translated by Chungyon Won and Aileen Won, is understated and simple, with further resonance presented through his multi-layered illustrations. With gentle words and glorious art, Lee inspires the newest generation of readers to lead the way... and make miracles happen. --Terry Hong, Smithsonian BookDragon