A People's History of Heaven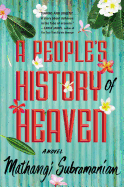 In her poetic first novel for adults, A People's History of Heaven, Indian American author Mathangi Subramanian (Dear Mrs. Naidu) imagines the lives of five teen girls in a Bangalore slum on the brink of destruction.
"Heaven" takes its name from the Sanskrit words on a nearby sign, though the "ragged jigsaw of tilted tents, angry quilt of rusted roofs, maze of sagging sofas" make the ramshackle neighborhood look anything but celestial. In fact, the government has sent a demolition crew to tear down Heaven so they can replace it with a new shopping center. The residents, mostly abandoned wives raising a vibrant assortment of daughters with few prospects, band together to stop the bulldozers.
The first-person-plural narrative voice, speaking from the girls' point of view, opens the story with a scene of the women forming a human chain, predicting, "Our houses may break, but our mothers won't." Leaving the reader with that potent image, the voice relates a chronologically fluid history of the hilarity and heartache the girls have faced together over the years.
In this Heaven, love comes first. Subramanian, who lives in New Delhi, never shrinks from the dangers and discrimination facing impoverished women, but she also gives her characters resiliency and hope in the form of each other. Rich imagery conjures up the bustle of a diverse city where children live in poverty mere blocks from three-story homes where their mothers work as maids. With its heroic young cast, A People's History of Heaven has huge YA crossover potential, and its social commentary makes it a wonderful book club selection. --Jaclyn Fulwood, blogger at Infinite Reads