Bom Boy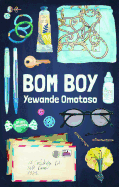 Through three decades, two countries and multiple points of view, a complete picture of Leke's life in the present slowly surfaces in Yewande Omotoso's debut novel. Shortlisted for the 2012 Sunday Times Fiction Prize, Bom Boy is published in North America for the first time following the critical acclaim for her second novel, The Woman Next Door, a 2018 finalist for the International Dublin Literary Award and a nominee for the Hurston/Wright Legacy Award for Fiction.
Leke lives between worlds: Nigerian and South African, white and black, birth family and adoptive family, dreaming and awake. He struggles to make connections with people and between what's real and what's imagined. Pieces of his story fall into place when his adoptive father hands him letters written by his birth father. At first, Leke ignores them entirely. His day-to-day behavior becomes increasingly erratic. He pickpockets and shoplifts small objects and begins innocently stalking people out of curiosity. Over time he becomes a hypochondriac in an attempt to discover the cure for his heartbreaking loneliness and isolation.
It is only by taking the risk genuinely to connect with someone in his present that Leke is able to face the past contained in the letters, and he learns his only hope is to break the curse placed upon his family generations before. Despite his quirks, Leke's plight is curiously engaging as it speaks to the universal yearning to belong somewhere with someone. --BrocheAroe Fabian, owner, River Dog Book Co., Beaver Dam, Wis.