Fay Wray and Robert Riskin: A Hollywood Memoir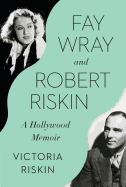 Being the child of a famous actress has its perks. Among its downsides are fielding questions like, "Hey, is your dad an ape or something?"
Victoria Riskin is the daughter of Fay Wray (1907-2004), who famously dangled from the hand of King Kong in the 1933 classic film, and the screenwriter Robert Riskin (1897-1955), whose scripts included the 1934 screwball comedy standard-bearer It Happened One Night. That Wray and Riskin don't become a couple until 100-odd pages from the end of Fay Wray and Robert Riskin: A Hollywood Memoir reflects two things: how relatively short their relationship was--they hadn't been together a decade when he suffered a permanently debilitating stroke--and how interesting their lives were before they married.
Fay Wray and Robert Riskin belongs on a shelf beside Margaret Talbot's The Entertainer: both odes to famous parents double as histories of the American film industry. Riskin's scrupulously researched book--which leans on family artifacts, her mother's autobiography and a galaxy of archival photographs--covers subjects including how writers' unions evolved to the tyranny of gossip columnists and Hollywood's (and especially Robert Riskin's) contribution to the war effort.
Because the author was nine when her father died, only a small chunk of the book fulfills the promise of its subtitle. Before their father's illness, Riskin and her siblings lived in a Bel Air home where Harpo Marx was a regular guest and Cary Grant lived within walking distance. When Riskin writes, "Our childhoods were idyllic," she doesn't mean dull. --Nell Beram, author and freelance writer