The Boy Who Grew a Forest: The True Story of Jadav Payeng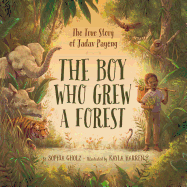 Debut author Sophia Gholz tells the inspiring story of Jadav "Molai" Payeng, a boy from a "large river island" in India, whose passion for nature inspired him to rebuild his home's ecosystem.
Distraught by damage caused by floodwaters, Jadav consulted with village elders. They "explained [to him] that the only way to help animals was to create new homes for them," so they gave him 20 bamboo saplings, unknowingly setting him off on a lifelong conservation effort. He planted the seedlings, engineered an irrigation system and enriched the soil by carrying "cow dung, earthworms, termites, and angry red ants that bit him" to his thicket. As Jadav and his trees grew and prospered, he planted more. Over time, the wildlife returned: "buffalo, one-horned rhinos, and snakes, gibbons, migratory birds, and elephants." Jadav used his ingenuity to overcome each new challenge and nurture his growing forest.
Gholz's respect for Jadav's accomplishments shines through in her endearing presentation of his life. The book's back matter adds biographical details, word definitions and directions on how to "Plant a Forest of Your Own." And while readers learn Jadav was actually a teenager when he started his forest, the younger depiction of him at the start of the book allows the intended four- to eight-year-old audience better to relate to him. Accompanying Gholz's uplifting tale are stunning illustrations by Kayla Harren (Hannah's Tall Order). The bold colors and distinct textures of Jadav's island home are so realistic, one almost expects to hear an elephant trumpet or a gibbon sing. The Boy Who Grew a Forest celebrates an incredible man and arouses in its audience a respect for nature that may motivate them to follow in Jadav's footsteps. Superb. --Jen Forbus, freelancer