The White Card: A Play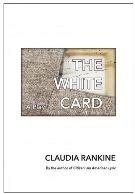 Claudia Rankine is, among other things, a poet best known for the National Book Critics Circle Award-winning Citizen: An American Lyric. The White Card is her first published play, a one-act drama composed of two scenes. The first is set at a dinner party hosted by Virginia and Charles, a philanthropist and art collector. The guest of honor is Charlotte, an up-and-coming black artist whom Charles wants to feature.
The play approaches the difficult reality of people who "read all the relevant books on racism, see all the documentaries and films... but in the moment of dialogue or confrontation retreat into a space of defensiveness, anger, silence, which is to say he might retreat into the comfort of control...." As the evening progresses, Charlotte and the couple's young, activist son, Alex, critique Charles's white-savior position in the art world, pushing him out of his comfort zone until he retreats to a reflexive, defensive posture.
The second scene continues Charles and Charlotte's conversation one year later, in her studio. Tensions heighten as Charlotte attempts to make him see himself as part of the ongoing tragedy of race in the United States rather than a separate, impartial observer.
The White Card stands out due to the realism of its discourse. It manages to be a provocative work without straw-manning other perspectives. When Charles says, "I truly am trying to find a way through," it's easy to believe him. The play also documents Charlotte's changing answer to the question: "What does it mean to portray black suffering as art?" The White Card stages difficult conversations around race, art and guilt that are too frequently avoided. --Hank Stephenson, bookseller, Flyleaf Books, Chapel Hill, N.C.