What Matters Most: The Get Your Sh*t Together Guide to Wills, Money, Insurance, and Life's "What-Ifs"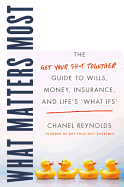 The unthinkable happened to Chanel Reynolds in July 2009: her husband, José, 44, was struck by a van while riding his bicycle in their hometown of Seattle, Wash. It took a week for him to die--hooked up to life support. Reynolds states, "I did not choose for him to die but I had to choose to let him go."
In What Matters Most, Reynolds's first book, she shares the intimate story of her husband's accident, her struggle to make critical life-and-death decisions and how those decisions affected her along with their young son, Gabi, and José's daughter, Lyric, from a prior marriage.
Reynolds faced an onslaught of red tape--everything from dealing with mortgage and car payments, deciphering bank accounts, and understanding life insurance and wills to figuring out next steps for her and the kids. Reynolds was forced to learn things the hard way. This led her, three years later, to launch a website called Get Your Sh*t Together, aimed at helping others avoid unpreparedness.
Her book compiles work from her website and shares her extensive research through surveys, conversations with experts and hearing the stories of thousands of people across the country who have taken her workshops. Reynolds is not a financial or legal adviser. However, her story, told from the trenches of life, is powerful and wise. Her message--sort out your finances and get your end-of-life wishes in order before it's too late--offers readers a generous opportunity to learn from her experiences and be more fully prepared. --Kathleen Gerard, blogger at Reading Between the Lines