Connections in Death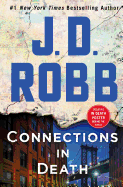 Connections in Death, the 48th full-length novel by Nora Roberts (Shelter in Place, Year One) writing as J.D. Robb, is a gripping addition to this futuristic murder mystery series. The year is 2061, and ever since murder cop Lieutenant Eve Dallas married reformed thief and self-made richest man in the world Roarke, she's had an increasingly difficult time keeping her work life and her personal life separate. So she shouldn't have been surprised at one more set of worlds colliding: one of Roarke's newest employees, Dr. Rochelle Pickering, is the girlfriend of Wilson Buckley, aka Crack, the big, black, Down and Dirty bar owner. He's one of Eve's oldest confidential informants-turned-friends from her early days on the force.
When Rochelle's brother is found dead in her apartment, Crack calls on Eve to investigate the suspicious death. She uncovers secrets that have ties to past investigations and major repercussions for New York City's gangs. It's not just one gangbanger who's going down for this--in typical Eve Dallas fashion, it's all of them. The emotional drama among the characters is kept to a minimum, while the action steadily builds to a crescendo that, of course, brings justice with it.
While this thriller can be enjoyed with no prior world-building knowledge, spoilers relating to previous character development abound by this point in the series. --BrocheAroe Fabian, owner, River Dog Book Co., Beaver Dam, Wis.