Midnight: Three Women at the Hour of Reckoning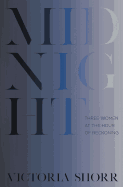 In Midnight: Three Women at the Hour of Reckoning, Victoria Shorr's (Backlands) remarkable literary voice illuminates the lives of three famous women. Jane Austen, Mary Shelley and Joan of Arc each stand at respective thresholds in these well-researched fictionalizations, their extraordinary lives given immediacy and power and even--despite what we already know--suspense.
At 27, Jane Austen is practically an old maid by her society's standards, and essentially homeless. When the younger brother of dear friends proposes the salvation of marriage, Jane agonizes through the night, but decides she cannot marry for less than love, like the best of her heroines.
Mary Wollstonecraft Godwin is on a beach at 24, after the deaths of two children, pacing the shore where Percy Bysshe Shelley has sailed away. He was due back days ago, and now Mary reviews her choices. Might she have been happy if she'd never met Shelley?
Readers find Joan of Arc on the platform beneath the stake where she is to be burned, in the moment when terror strikes her and she renounces her saints and her cause, hoping to avoid death. Over the next week in prison, she relives her triumphs and her faith, then dies at the stake after all. It is a brief interlude in her life, but an enormous one for the reader, who feels in this extended flashback all the intensity she's lived.
Shorr's prose is incisive, thoughtful and personal, deeply exploring the interior lives of her characters. Fans of Austen, Shelley and Joan, as well as fans of rich inner lives in historical fiction, will be riveted. --Julia Kastner, librarian and blogger at pagesofjulia