The Secrets of Paper and Ink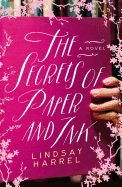 Lindsay Harrel (The Heart Between Us) entwines the stories of three women whose lives are uprooted by failed relationships in her novel The Secrets of Paper and Ink.
Ginny Rose is the struggling proprietor of Rosebud Books, located in Cornwall, England. She and her husband, Garrett, operated the bookstore together. But after five years of marriage, Garrett decides he needs a break. He sets off to London to find himself. Upon his departure, Ginny realizes he's left her and the bookstore in dire financial straits.
This forces Ginny to take in a boarder: Sophia Barrett from Phoenix, Ariz. Sophia is a women's therapist who suffered a nervous breakdown after the death of her abusive, alcoholic husband. Sophia's passion for books set in the English countryside inspires her to escape to Cornwall for respite. There, she takes a job in Ginny's bookshop. The two become friends.
In the storeroom of the shop, Sophie finds a journal. The pages, written by Emily Fairfax, describe the secrets and intimate thoughts of a young woman, a governess from the Victorian era--an aspiring writer pining for a man above her social class. Is the work fiction or drawn from Emily's life? Sophia becomes determined to solve the mystery and learn more about Emily's story.
Harrel unspools a gentle, captivating narrative about women who unknowingly discover their strengths and fortitude. As they learn to let go of the heartbreaks of life, they find joy, enlightenment and romance along the way. --Kathleen Gerard, blogger at Reading Between the Lines