The Weight of the Stars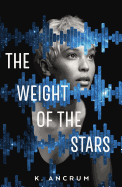 Ryann Bird is known for both "compulsively rescuing people from themselves" and fighting anyone who pisses her off. Ryann is intuitive, with a talent for opening people up; her friends include her selectively mute younger brother (she's his legal guardian) and an eclectic mix of teens who don't necessarily fit anywhere else. When a new student, Alexandria, arrives, a teacher enlists Ryann to engage her.
Alexandria is a minor celebrity: 20 years ago, a privatized space company called SCOUT sent a group of people "to the edge of space." All of the Uninauts chosen for the trip were young women; it was later discovered that one had been pregnant during training. After she secretively gave birth, her child was given to the father months after the Uninauts launched. Alexandria is that child. Ryann works to befriend Alexandria--making some severe missteps along the way-- until she finally convinces the young woman that she and her friends are trustworthy. What follows is a surprising, offbeat journey that includes a developing love, tender loss and messages from space.
K. Ancrum's (The Wicker King) character development is a particular highlight of this unconventional young adult novel--her teens are well-developed, occasionally eccentric and always individual as they interact in unpredictable ways. Their relationships are strongly felt and dearly held, and are more the driving force of the novel than the circumstances of the plot. The Weight of the Stars is a far-out trip that is sure to attract readers looking for something outside the ordinary. --Siân Gaetano, children's and YA editor, Shelf Awareness