Who Killed the Fonz?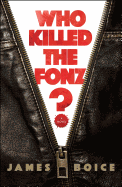 In the same vein that characters from the Archie comics were updated and transported into the noir TV series Riverdale, James Boice (The Shooting) has lifted the cast of the sitcom Happy Days and inserted them into a cozy noir mystery. Who Killed the Fonz? picks up the characters from the show, which was set from 1955 to 1965, 20 years later, in 1984. (The TV series aired from 1974 to 1984.)
Richard ("Richie") Cunningham is now in his 40s and living in Los Angeles with his wife and widowed mother. He has an Oscar-nominated screenplay to his credit but is finding it hard to get the green light for his literary film project when movie studios only want to produce rip-offs of The Terminator and Star Wars. When he learns that his longtime friend Arthur Fonzarelli has been killed in a motorcycle accident, he flies back to Milwaukee to attend the memorial. Once there, he's reunited with his friends Potsie Weber and Ralph Malph, and the trio begins to realize that the Fonz's death was a murder set up to look like an accident.
Who Killed the Fonz? could have easily descended into campiness, but Boice has respect and affection for the characters and skillfully adds layers of dramatic depth to them. Boice also knows how to plot a tight and engaging mystery that embraces both light noir and coziness. Fans of the 11-season sitcom will enjoy being reunited with the cast of familiar faces and will appreciate their lighthearted banter while they play amateur sleuths to solve a murder and cover-up. --Kevin Howell, independent reviewer and marketing consultant