Women Who Dared: To Break All the Rules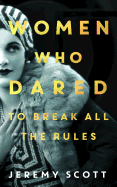 "She was the best of womankind; she was the worst," says the opening line of Women Who Dared: To Break All the Rules. Jeremy Scott highlights women who were often more infamous than heroic, and who flagrantly broke rules both real and imaginary.
Scott creates a template for defiant women with his opening portrait of Victoria Woodhull. In 1872, she was the first woman to run for president of the United States, when women couldn't even vote. Charismatic and brash, unapologetically promiscuous, she was admired and reviled by men, who were patronizing, and by many women, who were scandalized. "Women have every right," she maintained. "They only have to exercise them."
Action rather than words and a disregard for the opinions of others are hallmarks of the six women profiled in this book. Mary Wollstonecraft published "A Vindication of the Rights of Woman" in 1792. Preacher Aimee Semple McPherson, in the early 20th century, didn't believe that women should be subservient to anyone other than God. As one admirer said, "She taught me how to praise the Lord and get out of bondage to Man." Edwina Mountbatten, Margaret Argyll and Coco Chanel are depicted here, too. Their pursuits range from noble to ignoble, but all defied societal expectations for women in the economic, sexual and political arenas. They were publicity-savvy and manipulated the media of their day to advance their purposes. This book is an entertaining, gossipy depiction of women who not only broke rules, but broke trails for generations ahead. --Cindy Pauldine, bookseller, the river's end bookstore, Oswego, N.Y.