First: Sandra Day O'Connor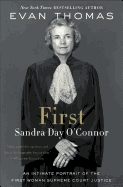 Sandra Day O'Connor's appointment as the first woman Supreme Court Justice of the United States carried almost unimaginable significance. First by Evan Thomas (Being Nixon) may become the definitive biography of this remarkable trailblazer. As her confirmation hearings were televised to millions, her supporters offered cringe-worthy, if well-meant, endorsements: "She is an achieving woman without an edge. She is good looking without being alienatingly beautiful and bright without being alarmingly intellectual." O'Connor's extensive preparation and reasonable answers in her hearings succeeded. The Senate unanimously confirmed her in 1981.
Her challenges in the "Marble Palace" were often minor (there was no ladies' room near the conference room, for example) but often more consequential. She "felt isolated" realizing that the Justices rarely spoke to each other outside conference. Yet her determination to succeed and her ability to build alliances finally earned her the respect she deserved, both inside and outside the Court.
First analyzes the national changes the Court grappled with during O'Connor's tenure. They were finding ways of "finessing societal problems that defied sweeping solutions." First also does an excellent job demonstrating her influence as an educator and advocate after her retirement from the Court in 2006. "She wanted young Americans to learn that there were three branches of government... and why their freedom depends on the system's working."
O'Connor and her family spoke with Evans during his research, adding personal touches to his exhaustive investigation. Readers who appreciate a thoughtful analysis of historical figures will find this vivid biography engrossing. --Cindy Pauldine, bookseller, the river's end bookstore, Oswego, N.Y.