Music for Mister Moon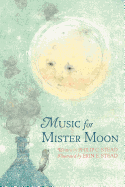 Author-illustrator team Philip and Erin Stead (The Purloining of Prince Oleomargarine) returns with a dreamy, delicate picture-book fantasy about a reclusive musician who meets an ideal listener.
Harriet "Hank" Henry, a lanky child with graphite-stroke bangs that hide her eyes, sweats at the thought of playing her cello for an audience--she prefers to transform her room into a one-person cottage and play alone. When her parents suggest she play her cello "in a big orchestra," she changes them into bespectacled penguins and she even throws her teacup at an owl who won't "go away." The cup knocks the gentle-faced, butter-yellow Mister Moon from his place in the sky, and Hank makes amends by taking him rowing on a lake; his light changes the slate water and sky to ethereal sea green. When he requests that she come with him to the silent sky to play her cello, Hank again breaks into a nervous sweat. The lonely, patient moon puts her at ease by promising to close his eyes and not cheer, and his soothing presence makes him the perfect audience for the shy performer.
Caldecott medalist Erin Stead's layers of oil ink and colored pencil weave a translucent moonlit spell around the graphite-sketched characters, including a thick-furred bear in a trapper hat and an upright, pot-bellied walrus. Introverts and dreamers ages four to nine will gravitate to Philip Stead's wistful Mister Moon, who thinks oars moving through the water and buoy bells are music compared to the quiet sky. Subtle and whimsical, Music for Mister Moon celebrates the peace that grows between trusted friends. --Jaclyn Fulwood, youth services division manager at main branch, Dayton Metro Library