The Lady from the Black Lagoon: Hollywood Monsters and the Lost Legacy of Milicent Patrick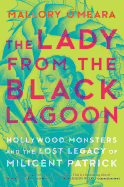 Film buffs, feminists and lovers of hidden history will adore Mallory O'Meara's superb investigation into the life and career of Milicent Patrick--the actress/artist who designed the gill-man Creature in the 1954 film The Creature from the Black Lagoon. She never received on-screen credit for her iconic creation, and she lost her job at Universal Pictures because Bud Westmore, the head of the special effects makeup department, wanted to claim credit instead. O'Meara's writing is fresh, impassioned and unafraid. "The thing you need to know about Bud Westmore is that he was a dick," writes O'Meara. "He was ego-driven, arrogant and hungry for power.... This was a man pulsating with insecurity."
Although Patrick was virtually erased from film history, O'Meara's extensive research creates a fascinating and full-bodied biography of this unsung film pioneer. Patrick was one of the first female artists hired by Walt Disney (working on Fantasia and Dumbo) and acted (often unbilled) in numerous films before and after her short stay at Universal.
O'Meara intersperses her investigation with fascinating autobiographical tales of her methods and how her subject affected her own life. As a screenwriter and horror film producer, O'Meara details how the same sexist hurdles and not-so-covert misogyny that derailed Patrick's career still exist in the #MeToo era. O'Meara's investigative skills match her crackling, engaging prose. Even her footnotes are hilarious. This is a wonderful, enlightening mixture of film history, memoir and love letter to the horror movie genre. --Kevin Howell, independent reviewer and marketing consultant