The Last Woman in the Forest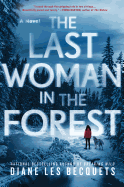 In The Last Woman in the Forest, author Diane Les Becquet (Breaking Wild) loosely combines her own experiences with abduction, assault, terminal brain cancer and the outdoors with the true story of the serial killer who murdered at least six women in the Connecticut River Valley in the 1980s. It is an intensely personal novel of a woman's obsession with whether or not her lover was the man responsible for the Stillwell murders.
Some chapters focus on Marian Engström's past--falling in love with the work of training rescue dogs to help track endangered animals for wildlife data collection studies while also falling in love with her mentor, Tate Mathias. Meanwhile, in the present, she grieves over Tate's death yet faces a growing suspicion that she didn't really know him at all. Interspersed are a criminal profiler's victim portraits of what might have happened to the murdered women, and his process helps Marian uncover the truth of who Tate was.
As the plot and pacing bend the timeline, the narrative provides an intriguing meditation on memory, intuition and the game of willful denial people play with themselves regarding the all-consuming and powerful nature of love. When the past and the present finally collide, Marian must make a choice: to believe in her memories or trust her instincts. --BrocheAroe Fabian, owner, River Dog Book Co., Beaver Dam, Wis.