The Night Swimmers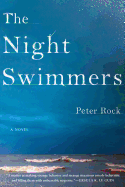 Anyone who has ever gone night swimming knows that the experience can evoke anticipatory feelings of mystery and sensuality. Peter Rock (The Shelter Cycle) brings those same qualities to The Night Swimmers, his autobiographical novel set on Wisconsin's eastern Door Peninsula, a narrow wedge of land separating the southern Green Bay from Lake Michigan.
During the summer of 1994, Rock's unnamed first-person narrator is a somewhat emotionally adrift 26-year-old writer staying with his parents at their cabin. Among their neighbors is Mrs. Abel, a widow in her 40s. The two meet regularly for nocturnal swims that span several miles and last for hours. One night, as the two are resting in a shallow part of the lake, Mrs. Abel suddenly disappears.
Twenty years later, the narrator--now a married father with two young daughters--remains haunted by that night. To better understand Mrs. Abel's disappearance, he revisits that time in his life by reconnecting with an old girlfriend, studying the work of real-life artists Charles Burchfield and Ted Serios, and immersing himself in a sensory deprivation tank.
It's all a bit otherworldly and somewhat strange, but Rock, the recipient of a Guggenheim Fellowship, seems comfortable taking this unconventional approach to his fiction. With provocative and elegiac prose, Rock pulls his reader into the depths of this story. What one finds under the surface is conducive to the autobiographical novel form and reflective of the nature of the narrator's swims: just as he once swam silently side by side with Mrs. Abel, we're all moving in parallel with the shadowy silhouette of the person we once were during pivotal stages of our lives. --Melissa Firman, writer, editor and blogger at melissafirman.com