Unbecoming: A Memoir of Disobedience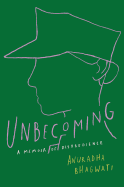 Has there ever been a less likely Marine Corps officer than Anuradha Bhagwati? The bisexual daughter of Indian American economics professors, Bhagwati attended Yale, where her alienation--from her parents, from her peers--peaked. Following a half-hearted stint at graduate school, she joined the Marine Corps--the most physically brutal of the service branches, notes Bhagwati in Unbecoming: A Memoir of Disobedience.
Officer training forced the "Bambi-loving socialist-leaning peacenik" to learn how to handle a gun, but harder to manage was the Marine Corps' tradition of sexism and tolerance for sexual harassment and worse: "Men's words about women, the filth that was said to keep us from realizing our potential, became the mantras I believed about myself."
The second half of Unbecoming recounts Bhagwati's rocky transition back to civilian life, starting in 2004. Although she was never deployed, she exhibits signs of post-traumatic stress disorder: anxiety, depression, suicidal thoughts. Through the Service Women's Action Network (SWAN), she hurls herself into activism, perhaps most successfully on behalf of overturning the ban on women in combat. Naturally, Bhagwati becomes a lightning rod for hate, not all of it generated by men.
Unbecoming brims with the ebullient Bhagwati's fierce humanism, seething humor and change-maker righteousness. The reader will be pleased to learn that after Bhagwati leaves SWAN in 2015, she finds lasting solace in teaching yoga, a practice that offers "the disciplined feel of Marine Corps training, with none of the abuse." --Nell Beram, author and freelance writer