White Elephant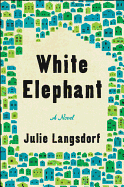 Willard Park is a perfect little suburb in Maryland--just ask Allison Miller, a photographer and Willard Park resident working on a book titled Willard Park: An American Dream. Residents keep their mugs at the town café to avoid using paper cups, have a snowman-building contest after the first snowfall, and hand out healthy alternatives to candy for Halloween. The sleepy little town is "a mixture of colors and nationalities, religions and sexual orientations"; it's quaint and quiet and community-oriented. Until Nick and Kaye Cox move in.
Nick is a builder who lives next door to the Millers. His idea of utopia is big, expensive and showy. He drives a gold SUV, lives in a faux stone castle and throws big, loud parties. Allison tries to like the Cox home, but she just can't; in her eyes, it's gaudy. In addition to his own home, Nick is building another large mansion in Willard Park. Allison's husband, Ted, christened it the White Elephant due to its large size, color and the fact that it's been on the market for months.
The Millers begrudgingly tolerate the Cox family eyesore and the constant barrage of noise until Nick cuts down their red maple, a tree they planted the day their daughter Jillian was born. With the demise of Jillian's tree, Ted throws down the proverbial gauntlet. This means war.
Julie Langsdorf's debut novel slams two conflicting ideas of the American Dream smack into each other with both wit and wisdom. The dialogue is sharp and a mystery subplot adds a dash of suspense. Entertainment at its best, White Elephant earns a shiny, gold star. --Jen Forbus, freelancer