Funny Man: Mel Brooks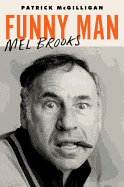 Prolific biographer Patrick McGilligan (Alfred Hitchcock: A Life in Darkness and Light) offers a massive warts-and-all biography of writer/director/producer/actor Mel Brooks. Brooks is a member of the exclusive club of EGOT winners (those who have won an Emmy, Grammy, Oscar and Tony award), but his success and critical acclaim were hard-won. As a member of the writing team of the classic Sid Caesar TV series Your Show of Shows, Brooks was often dismissed as a gagman who tossed out funny lines rather than a comedy writer who constructed scenes. All his eventual screenplays were co-authored with others.
McGilligan skillfully profiles Brooks's two sides--the bullying, raging and credit-grabbing "Rude Crude Mel" and the "Nice Mel," who performed discreet and generous acts of kindness and was a lightning rod for laughter in public. "Behind his façade as a perpetual amusant were depths of self-loathing and a fury at the world," writes McGilligan. The behind-the-scenes tales of The Producers, Blazing Saddles, Young Frankenstein and other films show Brooks's need for collaboration at constant odds with his desire to control everything. Much like his relationship with critics: "Brooks desperately yearned for the approval of critics while at the same time resenting their power and opinions," writes McGilligan. Brooks joked, "Critics are like eunuchs at an orgy--they just don't get it." But he also quoted negative reviews verbatim decades later.
This fascinating and exhaustive biography presents a complicated and immensely talented man whose inner demons fed his hilarious output of films, TV series and albums. --Kevin Howell, independent reviewer and marketing consultant