Placemaker: Cultivating Places of Comfort, Beauty, and Peace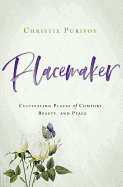 Growing up in small-town Texas, Christie Purifoy yearned for trees. Through her winding years as a newlywed, she and her husband, Jonathan, longed for a physical place to call their own. These days, they tend the ground and the trees (and their four children) near Maplehurst, an old brick farmhouse in southeast Pennsylvania. In her lyrical second memoir, Placemaker, Purifoy traces their family's geographical and spiritual journey, and asks questions about the ways human beings shape, and are shaped by, the places they inhabit.
Purifoy (Roots & Sky) centers each chapter on a different tree: citrus grove, honey locust, Norway maple, saucer magnolia. She tells of building a patio in a grad-student rental in Virginia, and meeting her neighbors in a Chicago apartment building. She draws in anecdotes about the history of each place she's lived, exploring the effects of decisions by city planners, colonists and homeowners on the land and its communities. Through her own experiences and those of others, she asks questions about grief, joy, community, loneliness and the ways placemaking interacts with all of those.
"Placemaking asks that we love a place with all of ourselves," Purifoy writes. But that love is rarely easy, nor does it lead to a guaranteed outcome. Like so much of life, placemaking "offers no protection from the many forms loss can take." Her memoir is a thoughtful meditation on choosing to pay attention to, and invest in, the places we live, and the often surprising rewards of doing so. --Katie Noah Gibson, blogger at Cakes, Tea and Dreams