Stay Up with Hugo Best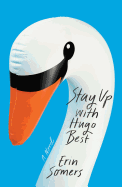 The late-night talk show host at the center of Erin Somer's Stay Up with Hugo Best isn't a direct take on any particular celebrity, but an ingenious mish-mash of white male comedians past their prime in Hollywood. With Hugo Best, Somers deftly teases out the muddled and sometimes inappropriate relationship men like him have with fame, aging and the women who get caught in their wake.
June Bloom is one such woman, a writers' assistant on Hugo's show and a fan of his early work. Living in New York with very little money and even fewer prospects for success, June's world starts to fall apart when it is announced that Hugo is retiring from his decades-long show, Stay Up. After a chance encounter at a dingy comedy club, Hugo invites her to stay with him at his house over Memorial Day weekend. Out of desperation, curiosity or some combination of the two, June agrees, and for a short while gets a firsthand look at the strange, sad world of Hugo Best.
It's important that the novel is told from June's perspective. She is neither an ingénue nor vixen, but instead a broke, self-aware woman who realizes that a tryst with Hugo could open some doors for her, or at least give her a pretty good story to tell her friends. Somers does a great job balancing June's competing feelings, but Stay Up with Hugo Best itself never feels unsure: Somers knows exactly when both the laugh lines and the cringes should hit. --Noah Cruickshank, director of communications, Forefront, Chicago, Ill.