The Gulf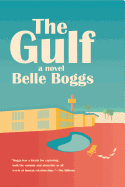 The Gulf by Belle Boggs (The Art of Waiting) is a hilarious, pitiable, thoughtful first novel not to be missed. A rare combination of silliness and poignancy, with momentum and compassion, this is a story for every reader, but especially for struggling writers.
Marianne is desperately underemployed and about to lose her apartment in Brooklyn, N.Y., and her poetry manuscript has been long stalled. Eric, her best friend and ex-fiancé, has an annoyingly good job teaching overseas, as he works to complete the second novel in his two-book contract. When he calls from the United Arab Emirates with a business offer, Marianne wants to say no, but she has no other option.
Eric has inherited an aging motel on Florida's Gulf Coast, and wants to realize Marianne's old college joke of a low-residency writing school for Christian writers. Marianne, a liberal atheist, soon finds herself in business with Eric, his venture capitalist brother, Mark, and their silent partner, great-aunt Frances. Ensconced in the crumbling motel with occasional hurricanes passing through, Marianne doesn't precisely want to fleece the applicants sending in embarrassing manuscripts, but she certainly could use the money.
Boggs's gifts are many. The Gulf's plot is inspired, even accounting for the arguable overabundance of novels about MFA program shenanigans. Perhaps the greatest genius is in her characters: Marianne, Eric, the writing instructor who can't remember anyone's name, the hotelier next door, Janine and the former R&B superstar now banking on an autobiographical novel to make his comeback. Each of these is perfectly developed and flawed just enough to be lovable. --Julia Kastner, librarian and blogger at pagesofjulia