I Miss You When I Blink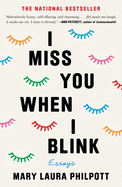 Mary Laura Philpott's collection of 31 essays, I Miss You When I Blink, is for every woman doubting herself, reaching an impasse or having a "small identity crisis." Borrowing from her six-year-old son's spontaneous poetry, "I miss you when I blink" became Philpott's touchstone phrase for shoring up self-confidence, knowing "all the selves I simultaneously have been, am, and will be" are within her, and she'll do the right thing.
The cover art of colorful eyelashes hints at the whimsical tone of these essays. This is not a "self-help" book, but an "I know how you feel" collection. An accomplished artist (Penguins with People Problems), essayist, interviewer and the founding editor of the "Musings" newsletter from Nashville's Parnassus Books, Philpott's autobiographical essays are laugh-out-loud funny. She credits her mom--"a warlord zipped into the body of Sally Field"--with both her perfectionism and her sense of humor. But she notes the myth of perfect parenting, and that everyone's life is "a little mystery we all unfurl on our own." The pieces address questions about big issues, including family and career, as well as daily conundrums. In a hilarious essay on her intolerance for meaningless small talk, she says, "It made me feel like the world around me was tuned to sports radio, and everyone but me knew what it all meant."
The collection is loosely chronological, from Philpott's competitive approach to her first-grade spelling bee to her TV interviews, from childhood through motherhood--still seeking perfection but telling her "crowd of selves" that everything will be okay. --Cheryl Krocker McKeon, manager, Book Passage, San Francisco