Let Me Out Here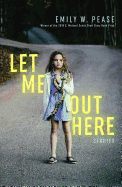 Women who find themselves in lives they didn't imagine, and which aren't satisfying, connect the stories in Let Me Out Here. Emily W. Pease, in her debut collection, brings to life a complex Southern landscape and strong sense of place in 16 stories both tender and tough.
The strong and sometimes strangling bonds of family and community weave through these stories. "Primitive" finds a young wife and mother, her husband often away, trapped in a dead-end life. She sees no way out of the crashing boredom that makes up her days and says, "I longed for something to happen, like an explosion, a fire, a crashing plane." Ashamed, she castigates herself: "Oh, the darkness of my heart." In "Submission," a family is making an improbable trek through the woods with their dying infant, in an attempt to summon healing spirits. As they hike, the narrator thinks about the satellites orbiting the earth that are "searching, listening. But not listening to us."
Pease describes women who, frustrated with their lives, often resort to some type of destruction. One woman ruins her art. Another, mortified by a less-than-perfect family dinner, sets fire to her balcony. A Sunday school teacher explains parables through surprisingly violent demonstrations. "The harder you're cracked, the finer you become," she instructs the children, and this remark underscores the broken people in these stories. Primarily women, but men and children, too, bear cracks in their souls and hope that the scars will, somehow, redeem. --Cindy Pauldine, bookseller, the river's end bookstore, Oswego, N.Y.