The Good Detective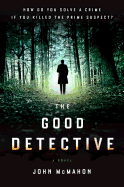 The Good Detective, John McMahon's debut spin on the detective-tortured-by-grief theme, is the first in a planned series featuring P.T. Marsh. He is an up-and-comer in the Mason Falls, Ga., police department, until he loses his wife and son and turns to alcohol. Uncertainty over his father-in-law's potential role in their fatal accident continually gnaws at him.
Off the clock, P.T. visits the abusive boyfriend of a local stripper to give him a warning. The house becomes a crime scene when the man is found dead in his chair, leaving P.T. flummoxed, almost certain he left the jerk beaten but alive. Things go downhill fast when a black teenager is lynched and burned and evidence ties the two killings together.
P.T., partner Remy and former partner Abe dig into both crimes, and the clues fly at a furious clip while P.T. secretly tries to avoid being suspected of the first murder. A few of the numerous plot arcs are extraneous, some leaps in logic are made and police procedure often goes by the wayside, but McMahon is a fine storyteller and his characters are intriguing.
McMahon's fluid writing highlights the dark and emotive themes, with P.T.'s bulldog Sweet Purvis, all he has left, used as a tender emotional touchstone via P.T.'s subconscious. The beautiful small touches McMahon "shows" (e.g., the overgrown shoe ruts in the dirt under P.T.'s son's swing) are more powerful than the "telling," but The Good Detective is fast-paced, compelling and a good start to a promising series. --Lauren O'Brien of Malcolm Avenue Review