The Honey Bus: A Memoir of Loss, Courage and a Girl Saved by Bees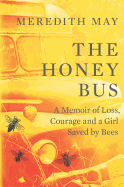 Warning: before starting Meredith May's memoir, be sure there's a jar of honey in the house. While The Honey Bus: A Memoir of Loss, Courage and a Girl Saved by Bees is a testimony to a child's resilience and her grandfather's support, it is also an homage to bees and their golden nectar, and a craving for honey is inescapable.
Before May was five, her parents' tumultuous marriage ended in divorce, and her mother moved her two children from the East Coast to California's Carmel Valley, to live with her parents. "Somewhere over Middle America, she had relinquished parenthood," May writes, so no-nonsense Granny took control. But May gravitated to her Grandpa's workshop, a World War II Army bus outfitted with beekeeping equipment, stacks of honeycombs and barrels and pipes for honey-collecting. Their bond was immediate, but May had to earn her way into the Honey Bus. Casually swatting at a bee as if to kill it, she incurred Grandpa's rare wrath: "You. Must. Never. Hurt. Bees," he said, prompting her eager absorption of his bee expertise. She helped Grandpa in the bus and with the hives on his acres of wild Big Sur lands. Through her painful adolescence with her alternately neglectful and abusive mother, "the hive was predictable... it was a family that never quit."
A fifth-generation beekeeper who now tends hives in a San Francisco community garden, May devotes more of her memoir to bees than to her difficult life. She honors her grandfather by pledging to work to stop the alarming bee decline. The Honey Bus is a call to action and an inspiration. --Cheryl Krocker McKeon, manager, Book Passage, San Francisco