All the Fierce Tethers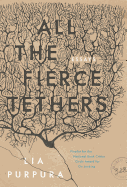 In her essay collection All the Fierce Tethers, Lia Purpura (On Looking) offers poetic meditations on daily life.
The title piece considers the minutiae and routines of humans and animals, and how a small moment functions in relation to an entire life. "My Eagles" looks at the national, spiritual, biological and metaphorical power of the bird. And in an especially resonant series of four essays, "Bloodspots (I)" through "Bloodspots (IV): Coda," Purpura walks to the scene of a shooting in her Baltimore neighborhood and considers the racial divides therein.
Purpura's prose is sustained and melodic, like a rich thrumming alto or footfalls on soft ground. In "Three-Legged Branch" she writes, "Once I believed--though believed isn't right. I, child-wise, knew the not-indifference. I was given no church, no practice, no prayer (no under-the-breath rote anything to lean on) so it happened with color, with tide pools, with trees--which called me to them, and in their sight, I was heard, a see-hearing, a searing." She uses unexpected, singular words to great effect; in just one page readers are met with "hummock," "catkins" and a late summer afternoon described as "sun bright-but-downshifting." Purpura finds stories and life in everything around her--a lightning-split tree, a stained quilt, fire ants, landfills--thus deepening our relationship to them. Her essays, like her ambling reflections, are as full as they are quiet. --Katy Hershberger, freelance writer and bookseller