Vanlife Diaries: Finding Freedom on the Open Road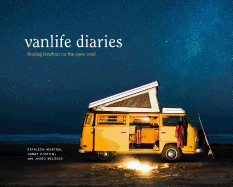 Kathleen Morton, Jonny Dustow and Jared Melrose are partners at the blog Vanlife Diaries, a community of and for nomadic types, where they promote relevant nonprofit organizations and meetups and other events, and vanlifers share their stories. A few years and a few hundred thousand followers later, Vanlife Diaries: Finding Freedom on the Open Road is available as a beautiful collection of photographs and essays, tips and tricks, celebrating this way of life and offering inspiration to those setting out.
Contents are organized by motivation to travel: for family, for love, for art, for nature and so on. Each section includes an essay by a featured vandweller, with helpful how-to pieces slotted throughout: guides to cooking in small spaces, traveling with pets, finding wifi and other finer points of life on the road. More than 200 accompanying photographs feature van set-ups and their human, canine and other inhabitants in breathtaking natural settings around the world. Even readers who thought they were immune to wanderlust can't help but be swept away by such stunning images. And the more serious consumer of vanlife literature will be impressed by the balance of these impressive images with the kind of gritty, realistic details that rarely accompany Instagram versions of the trending lifestyle.
Vanlife Diaries is for anyone who's ever considered nomadism as a means to reduce their carbon footprint, pursue nontraditional work or simply live more slowly and simply. With practical advice and inspirational full-color photos, this book has something to offer readers at every stage of the journey. --Julia Kastner, librarian and blogger at pagesofjulia