Woman of No Importance: The Untold Story of the American Spy Who Helped Win World War II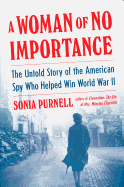 Seven decades after the end of World War II, the stories of key players in the Allied intelligence services are still coming to light. Virginia Hall, a fearless American who spent much of the war working undercover in France for Britain's Special Operations Executive (SOE), is one of these formerly unsung heroes. Journalist Sonia Purnell (Clementine) tells Hall's story in her fast-paced, meticulously researched (and ironically titled) biography, A Woman of No Importance.
In her 20s, Hall spent time in Paris and Vienna, studying languages and absorbing the culture, before working as a clerk for the U.S. State Department. A hunting accident in Turkey left her disabled (she lost part of one leg) but never slowed her down, and in 1940, Hall was recruited by the fledgling SOE.
Purnell traces Hall's trajectory from fresh-faced recruit to battle-hardened, savvy Resistance fighter, and brings her comrades and civilian supporters to life. She follows Hall's movements around occupied France: organizing air drops, setting up Resistance cells, finding safe houses for refugees and radio operators. The woman's bravery and brilliance are on constant display, but Purnell also highlights the quiet heroism of ordinary people who risked their lives daily to fight fascism. She also minces no words about the sexism Hall and other women faced at the State Department and in SOE--both agencies having started as well-heeled boys' clubs.
Purnell's book is a gripping account of an extraordinary woman, and a celebration of courage, ingenuity and grit. --Katie Noah Gibson, blogger at Cakes, Tea and Dreams