Forward Me Back to You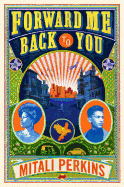 In Forward Me Back to You, junior Katina King is the reigning "middleweight, under-seventeen Northern California Brazilian jiujitsu Grappling champion" and on track to a bright future. When a classmate--whom she refers to as "wolf"--attempts to sexually assault her, she smartly uses her skills to fight back. Unfortunately, since there is no evidence he attacked first, the wolf faces no repercussions. As a result, Kat withdraws and develops a deep mistrust of men, constantly feeling the stare of their "canine eyes." Kat's concerned mother sends Kat to Boston to spend a few months with her Grandmother Vee; while there, Kat attends a church group gathering and meets Robin. Adopted by a white couple from an Indian orphanage at (approximately) three years old, Robin, now 18, is suffering an identity crisis.
Kat and Robin decide to join their youth group's trip to Kolkata, where Robin was born. The intent of the trip is to volunteer with survivors of human trafficking, but Kat and Robin have very different personal reasons for going: Kat, to pad her college applications; Robin, to find his "first mother." The experience proves more enlightening than expected--Kat slowly rebuilds trust and Robin learns more about himself than his "first" family.
Mitali Perkins (You Bring the Distant Near) expertly explores personal identity, faith, trauma and ethnocentrism, cleverly using a dual narrative to depict Kat's and Robin's individual points of view. Perkins also uses the teens' experience in Kolkata to highlight the way many view service when done in cultures other than their own. Forward Me Back to You respectfully tackles heavy issues with a poignant, honest and refreshing outlook. --Tasneem Daud, blogger and booktuber, Nemo Reads