Megabat and Fancy Cat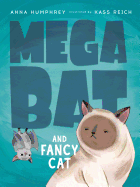 Anna Humphrey and Kass Reich's fast-talking, short-nosed fruit bat worries he's lost his Favorite Pet status in this follow-up to Megabat, Megabat and Fancy Cat.
It's Megabat's first Christmas in Canada and he's having trouble understanding the human traditions: "The man is too fattish and oldish to be climbing stairs?" Friend Daniel explains that Santa comes down the chimney because he doesn't have keys. "Santa is being a rotten robber!" Megabat exclaims. But gifts? Megabat understands gifts. He is immediately enamored with one of Daniel's presents, a "bunny-rabbit soft," "creamy white" purebred cat named Prudence. Unfortunately, when Megabat "really, really" likes something, he tastes it. Prudence, skittish in her new environment, runs from the slurping bat tongue and launches herself at the Christmas tree, bringing it down "with a glittery, howling crash." Megabat soon finds that, whether it's knocking over the tree, spilling paint (because Megabat painted her) or breaking a porcelain Christmas village (because Megabat scared her), it doesn't matter what bad things Prudence does--the family grows ever fonder of her. Convinced Daniel can't love both Prudence and him, Megabat hatches a scheme to get rid of the cat.
Humphrey's second early chapter book in this series is just as sweet and wacky as the first. Megabat's version of English is charmingly off-kilter and Reich's graphite illustrations of the adorably expressive animals match the text in exuberance and silliness. Megabat hopefully has many more adventures to come and, if we're lucky, Prudence will be by his side. --Siân Gaetano, children's and YA editor, Shelf Awareness