My Coney Island Baby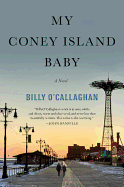 Two lovers, Michael and Caitlin, fight against the frigid weather as they walk along the bleak, deserted Coney Island boardwalk. The skyline is "a bullying slob of grey running into grey, slaughtering detail and definition." The air, "mean with cold," highlights their intimacy as they brace together against the wind, draw close and speak into each other's breath. Then Michael softly says, "Barb's got cancer," and realization breaks through the veneer--Michael and Caitlin are married to others, carrying on an illicit affair.
Billy O'Callaghan begins My Coney Island Baby with a lyrical struggle of a couple against nature, allowing the reader to invest in their relationship before providing any opportunity to drop the hammer of judgment. He then winds through Michael and Caitlin's histories--separately, within their respective marriages and through their monthly meetings over the course of their 25-year relationship, fleshing out the humans that underlie the indiscretions.
O'Callaghan won the Bord Gáis Energy Irish Book Award for his short fiction, and his prose displays minute attention, finding beauty and meaning in the smallest of details, every page a goldmine of life reflected in its elements, even those that are worn down and busted. The work is infused with musicality, from the jazz saxophone scoring Michael and Caitlin's first meeting to the resonant sounds of an infant on life support. Over the course of the day, Michael and Caitlin's secret but sustaining relationship must bear up to new facts and long-denied decisions. --Lauren O'Brien of Malcolm Avenue Review