Oscar Wilde and the Return of Jack the Ripper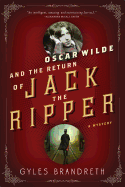 The seventh book in Gyles Brandreth's Oscar Wilde mystery series, Oscar Wilde and the Return of Jack the Ripper, is the first that is not told from Wilde's viewpoint. Instead, this witty and fast-paced outing is recounted by Arthur Conan Doyle, creator of Sherlock Holmes and a real-life friend of Wilde. Not surprisingly, this deliciously twisty mystery works just fine as a stand-alone thriller. And although this entry is a bit darker than the previous mysteries, it is still an enjoyable romp. There are plenty of charming scenes between the two bantering friends, and Wilde's clever and acerbic observations are constantly entertaining.
Six years after the notorious Jack the Ripper murders in London's impoverished Whitechapel district, Chief Constable Melville Macnaughten contacts the two amateur sleuths about a new murder that appears to be the work of the same psychopath. Except this murder has taken place in an alley behind Tite Street--where both Wilde and Macnaughten have homes. With the permission of the police, the duo studies the case files of the first five victims and start eliminating previous suspects and interviewing new ones. Meanwhile, Wilde's messy personal life brings him dangerously close to ruin when his devoted and loving wife begins circling the same orbit as his latest male infatuation.
Fans of Doyle and Wilde will find the pair fully developed and fascinating company. And Brandreth's extensive research into the Whitechapel Murders produces a solution that is sound, satisfying and original. A delightful police procedural not to be missed. --Kevin Howell, independent reviewer and marketing consultant