Her Fearless Run: Kathrine Switzer's Historic Boston Marathon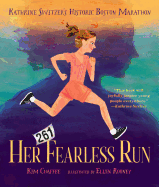 Young Kathrine loves to run. She sprints around her backyard while passersby look on quizzically: in 1959, "girls weren't supposed to sweat. Girls weren't supposed to compete. They were too weak, too fragile, for sports."
Later, attending Syracuse University, Kathrine finds that there's no women's running team. She's permitted to practice with the men; the team's manager, who has run the Boston Marathon 15 times, identifies and nurtures Kathrine's gift. On the day she runs 31 miles, they both know that she's ready for Boston.
Unfortunately, in 1967, Boston isn't ready for her, or for any woman who wants to run the 26-mile marathon: in its 70-year history, only men have been granted race numbers. However, when Kathrine checks the marathon's rule book and entry form, she sees nothing about "only for men." She registers as "K.V. Switzer," and the rest, as they say, is history. (Not that Kathrine's run was without obstacles: two race officials who believed that women didn't belong in the contest tried physically to derail her mid-stride.) At the finish line, she's plainspoken with reporters who ask why she competed: "I like to run. Women deserve to run too."
Her Fearless Run: Kathrine Switzer's Historic Boston Marathon finishes ahead of the typical picture book biography. Bolstered by sources including Switzer's 2007 memoir, the book is distinguished by Kim Chaffee's obvious enthusiasm for her subject and by Ellen Rooney's multifaceted mixed-media collage art, which offers a steady supply of interesting backdrops, both realistic and abstract, past which Kathrine flies. --Nell Beram, freelance writer and YA author