Miracle Creek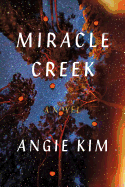 The backdraft of a boom immediately sucks readers into Angie Kim's dazzling debut, Miracle Creek. In rural Virginia, Korean immigrants Pak and Young Yoo live with their teen daughter, Mary, striving for success. Their business, Miracle Submarine, uses a hyperbaric oxygen chamber where patients undergo atmospheric pressure therapy to help with problems such as spectrum disorders, brain injuries and infertility.
Pak, a certified technician, always runs the chamber. Then one night he asks his wife to lie and leaves her alone at the controls, resulting in a compellingly layered and tragic answer to Pak's simple question "What could go wrong?" A disastrous confluence of circumstances, mistakes, emotional burdens and shame culminates in an explosion that kills two patients and injures others, including Pak and Mary.
A year later, through the murder trial of Elizabeth Ward, who stands accused of targeting her own son, who was being treated for autism, Kim masterfully unwinds the events leading up to the blast, intentionally caused by a fire. With an inordinately large pool of potential suspects in addition to Elizabeth, the various pressures that work on those associated with the Yoos and their patients paint a complicated picture that Kim mines to extraordinary effect. Protestors threaten the Miracle Submarine business, a potential insurance payout is suspicious, and marital and infertility issues raise red flags.
Kim's writing is stunning in its depth and compassion. The light she shines on the difficulties of parenting a child with special needs and the immigrant experience in the U.S. is unflinching and multi-faceted, evidence that the pressures of life can go almost unnoticed until they detonate in an instant. --Lauren O'Brien of Malcolm Avenue Review