Never a Lovely So Real: The Life and Work of Nelson Algren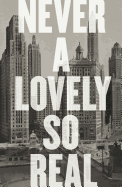 In the postwar U.S., a Communist Party affiliation wasn't exactly a ticket to getting in the public's good graces. Even so, Nelson Algren (1909-1981) managed to make a name for himself as a socially aware writer out of Chicago, where he claimed that "every day is D-Day under the El." In the thoroughgoing Never a Lovely So Real: The Life and Work of Nelson Algren, Colin Asher sculpts the writer's checkered life story into something that would have pleased him: a ripping good tale.
Born into a working-class Jewish family, Algren graduated from the University of Illinois in 1931 with the intent of becoming a journalist. The Great Depression withered his employment prospects, so for five years Algren train-hopped and otherwise roamed in search of work and, more rewardingly, life experience, which included jail time in Texas for stealing a typewriter. Algren published a novel influenced by his travels, took odd jobs, did a stint in the army and finally had success with The Man with the Golden Arm, which, in Asher's words, "dared to assert the humanity of addicts, prisoners, prostitutes, and thieves." The book won the National Book Award for fiction in 1950.
That didn't mean Algren had it made: editors still balked when they considered his subject matter too hot, and Red Scare hysteria kept him under surveillance. Asher's grim notes on Algren's FBI file are leavened with scenes devoted to the writer's interactions (some hair-raising) with his lover Simone de Beauvoir, booster Ernest Hemingway and foe Otto Preminger. --Nell Beram, author and freelance writer