The House of the Pain of Others: Chronicle of a Small Genocide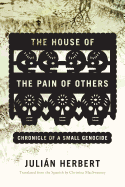 The House of the Pain of Others: Chronicle of a Small Genocide examines a nearly forgotten tragedy: the 1911 massacre of some 300 Chinese immigrants in the city of Torreón, near the start of the Mexican Revolution. This is a work of history, but an unusual one, coming at the massacre from a multitude of angles and freely skipping through time. Writer, musician and teacher Julián Herbert (Tomb Song) frequently returns to the present day, to his reporting and reflections on what he uncovers. This gives the work a personal dimension, as does the discursive, lyrical writing. The House of the Pain of Others proves that truth does not come from a mere recitation of facts, but from the messy byways of memory and other more unexpected sources.
Despite the many tangents, Herbert's book does have a central argument, one that disagrees with the "general consensus" on the massacre at Torreón. According to the general view, the events were "an unplanned tragedy: a spontaneous reaction by the mass of common folk," which "had little or nothing to do with an act of xenophobia carried out by the people of La Laguna." Herbert argues that it had everything to do with longstanding Sinophobia fostered by the wealthy and middle class as well as the "common folk."
The House of the Pain of Others is partially about how the past haunts the present, especially if the root causes go unaddressed. Herbert claims that "this is not the story you were expecting," but in many ways it is achingly familiar. --Hank Stephenson, bookseller, Flyleaf Books, Chapel Hill, N.C.