Tragedy, the Greeks and Us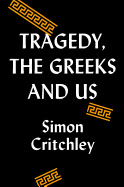 Life is often violent, unjust and uncertain. In order to cope, "we need to go back to the theater... we need to see tragedy itself as a... mode of experience that can teach us," Simon Critchley (Stay Illusion!) argues in Tragedy, the Greeks and Us. The author supports his contention in this thought-provoking and formidably erudite work first by rehabilitating sophistry and using tragedy to counterpoint philosophy, which he finds insufficient in the face of reality.
Sophistry--essentially learning to argue any position irrespective of truth--was scorned almost from its inception, starting with Socrates (circa 450 BCE) and his adherents. Critchley considers sophistry as a prototypical form of modern subjectivity, which is more nuanced and subtle than the truth-seeking of philosophy and better reflects the messiness of existence.
Tragedy shares much with sophistry, avoiding certitude, considering first one position and then the opposite. Therefore, tragedy has explanatory power as "human beings' relation to the world is a marriage of convenience or adaptation made neither in heaven nor in nature, but on the slaughter bench of history," and "our lack of vocabulary when it comes to the phenomenon of death speaks volumes about who we are and what is so impoverished about us." Tragedy teaches us an essential vocabulary to cope with the human condition.
Passing familiarity with the 31 surviving Greek tragedies and the ideas of Plato, Aristotle, Kant, Spinoza, Hegel, Heidegger, Nietzsche, among others, is sufficient to make this work rewarding and provoking. When necessary, Critchley does the heavy lifting. --Evan M. Anderson, collection development librarian, Kirkendall Public Library, Ankeny, Iowa